I have been busy since the release of the book and hope to set up a webpage that works. I will have an errata page set up to address certain issues in the book and to clarify points that were either skipped over or omitted during the editing phase.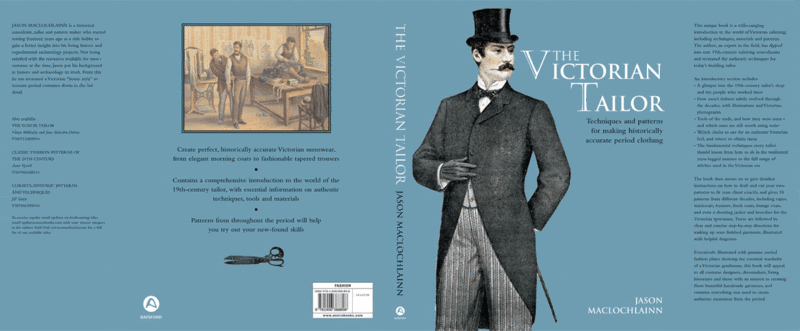 In addition I have added the link to my FB Group for the book to keep people updated on news and release dates.
www.facebook.com/#!/group.php
I was sent the cover art today so I'd thought I'd post it to show what it looks like.
About the Book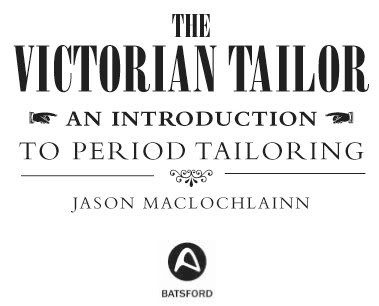 Publish Dates
: Feb. 15th 2011 (North America) and Feb. 17 (rest of the world.)
Titles
The Victorian Tailor- An Introduction to Period Tailoring
(official and UK title)
The Victorian Tailor- Techniques and Patterns for Making Historically Accurate Period Clothes for Gentlemen
(North American Publisher Title)
I am not sure if the American Publisher will retitle the book to meet my official title. I hope so to avoid confusion.
Synopsis
(of sorts)
For many years now, costuming resources have been saturated with works on women's wear with little to no regard to men's costuming. What little resources that are available for men's costuming and fashion have very little to no useful information to put into practice. Even Nora Waughs' iconic
The Cut of Men's Clothes
, has nothing you can use from a drafting or making up perspective. With
The Victorian Tailor,
I present to the costuming trade an introduction to historical hand tailoring from a making perspective. Real tailoring for garments as they were made.
Having been a casual costumer for many years, as a side hobby of my tailoring trade, I wanted to merge my love of living history and tailoring. I soon realised that the available resources and methods of making were greatly lacking. From this "want" I dedicated my studies through experiment and period sources, to not only recreate authentic period garments, but to recreate a House style as would have been used in any period tailors shop.
Although I was only allotted 160 pages, I have tried to encompass what an apprentice of the period would have learned in their first and second years of studies. All methods are not only authentic down to the stitch, but also put into practice so I may give a practical appreciation and explanation to the methods used. I guide the reader through the process from threading the needle through the various hand stitches paired with exercises to help develop the students skills and give a solid foundation to hand tailoring garments. Then an in-depth method of making a basic trouser and waistcoat with a brief look into making body-coats. You will find a lot of information is crammed into so few pages and I am proud to say, while it is a short (160 pages) introduction to period tailoring it is still cohesive and the best resource available today for making period hand tailored garments!
In addition to the recreated period methods and exercises I also include the following;


Section devoted to suitable period equivalent cloths available to day and the mills that make them


Section devoted to tools and where to get them including order numbers to make tool purchase easier


Instructions for period shrinking of fabrics


Instructions for making period pressing and lap cloths


Instructions and plans for making period Tailor's Jack, trouser board and sleeve boards


Contents
Fore-word by R.L. Shep
Introduction
1 • The evolution of tailoring
2 • Gentlemen's fashion in a nutshell
3 • The roles of the tailor and the shop
4 • Tools and materials of the trade
5 • Fundamentals of Victorian tailoring
6 • The art of cutting
7 • Making up
Appendix One:Hand-sewing exercises
Appendix Two: Extra instructions and plans
Appendix Three:Make your own tapes
Appendix Four: Shrinking cloth
Appendix Five: Suppliers
Appendix Six: Bibliography
Here are some advance reviews of the work;
"
Jason MacLochlainn has gone on to write his first book, the first and only one available on reproducing quality 19th century menswear... utterly fantastic..., and what a huge gap it'll fill on the costumer's bookshelf
."
Catherine Hay at Your Wardrobe Unlock'd
"That's going to be a nice book
."
Fred Struthers, Publisher, R.L. Shep
"
Jason was kind enough to allow me to proofread an electronic copy and I believe it is the best book currently available on the subject. The illustrations alone are worth the relatively modest price. While the concentration is on the latter half of the 19th century (Jason's field of expertise) this book is a worthy investment for every historical costumer and reenactment clothing maker.
"
Jim Ruley, Contributor to the Sewing Academy and advance reviewer of the book.
Where to Pre-Order
UK and Europe:
www.bookdepository.co.uk/book/9781906388898/The-Victorian-Tailor
www.whsmith.co.uk/CatalogAndSearch/ProductDetails.aspx
www.bokus.com/bok/9781906388898/the-victorian-tailor/
North America
www.amazon.com/Victorian-Tailor-Techniques-Historically-Gentlemen/dp/0312642334
Japan
bookweb.kinokuniya.co.jp/htmy/0312642334.html
Hello everyone I am pleased to announce the Pre-order of my book world wide. There seems to be some confusion on what exactly my book is about so I hope to clarify the scope of the work as well as tell you what is in it.
Current Mood:

chipper